November 14, 2018
SDL Atlas Introduced Exciting New Technology at ITMA ASIA + CITME 2018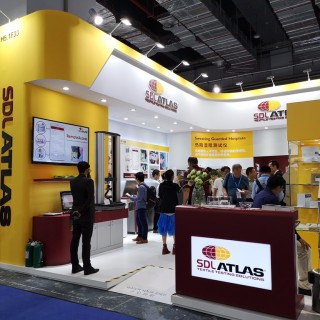 SDL Atlas was extremely pleased to be an exhibitor at the ITMA ASIA + CITME 2018 Show, October 15 – 19, in Shanghai, China.
During the show, SDL Atlas introduced their latest technology and developments across a wide range of products. Of special interest to visitors were RemoteAccess and the new line of SDL Atlas Test Materials.
RemoteAccess, a remote instrument monitoring application, a revolutionary system for monitoring and tracking real-time testing progress of instruments anytime, anywhere, on the go. Operators are no longer confined to laboratories during long tests. It is available for download on IOS devices now and will be available on Android devices soon.
To ensure the highest quality and the best compliance to the appropriate testing standards, SDL Atlas is now producing the vast majority of their Test Materials directly, which include Multifiber (both for AATCC and ISO testing), Detergents, Gray Scales, Blue Wool, Crocking Squares and Fabrics, Abrasion and Pilling Testing Materials, and Phenolic Yellowing Testing Materials. Each lot of Test Materials produced by SDL Atlas is thoroughly tested to ensure conformity and consistency from batch to batch and supplied with a Certificate of Conformity stating such.
In addition to these exciting new items, SDL Atlas also presented the newly redesigned Martindale and Autoburst. The Martindale now features individual station lighting that gives a notification flash of the relevant station's light along with a notification beep to indicate the end of a test. The Autoburst is reengineered from the bottom up to provide unmatched performance for hydraulic burst testing for heavy duty samples. Some of the new features include station lighting, full-color touchscreen control and the flexibility to operate as either a stand-alone instrument or paired with a computer.
SDL Atlas is thrilled to display other new innovative technology, together with these instruments and test materials at ITMA 2019 in Barcelona, June 20 – 26th .
SDL Atlas is committed to providing customers confidence in standard based testing. With offices and experts in the United States, United Kingdom, Hong Kong and China, plus agents serving over 100 countries, SDL Atlas is ready to support its customers with instruments, equipment, consumables, and services anywhere in the world.
For more information, visit www.sdlatlas.com or contact an SDL Atlas solutions expert:
- (US) T: +1 803 329 2110; E: [email protected]
- (Hong Kong) T: +852 3443 4888; E: [email protected]
- (China) T: +86 755 2671 1168; E: [email protected]