July 11, 2019
SDL Atlas Exhibited the Latest in Textile Testing During a Successful ITMA 2019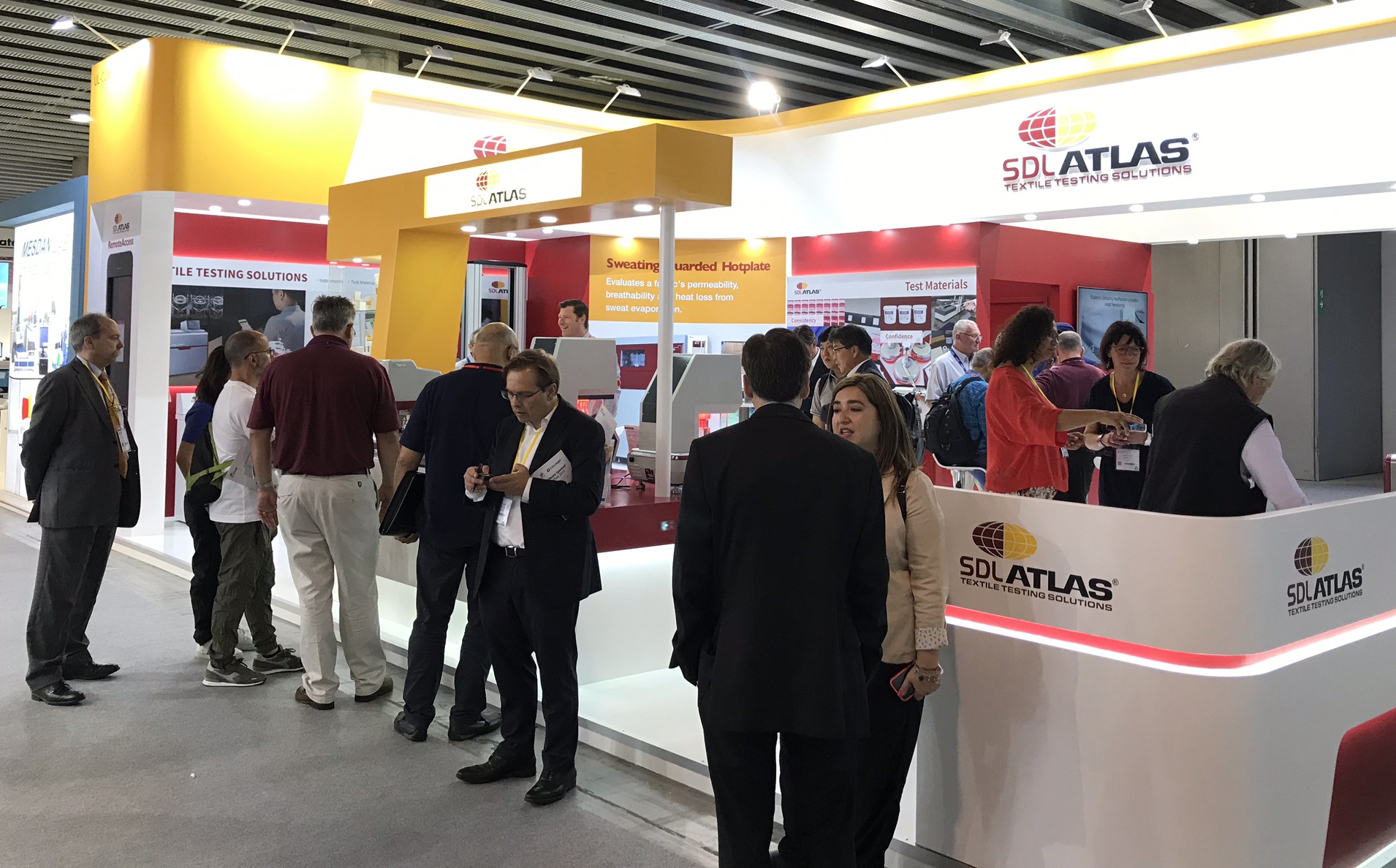 During ITMA 2019, June 20 – 26, in Barcelona, Spain, SDL Atlas introduced their latest technology and developments across a wide range of products. Of special interest to visitors were RemoteAccess, the new line of SDL Atlas Test Materials and the newly redesigned Vortex M6, which was displayed for the first time ever.
The Vortex M6 is innovated with a user-friendly bilingual (English, and Chinese) full-color touch screen controller preprogrammed with M6 Monograph and LP1 and able to create custom programs, which can be saved for later use including wash cycles of up to 80 hours and the ability to continuously run and repeat cycles. Powered with cycle status notification via RemoteAccess, the instrument also features a flashing light to signal operator attention or the end of a test.
RemoteAccess, is a revolutionary system for tracking real-time testing progress of instruments anytime, anywhere, on the go. ITMA attendees were thrilled to view the live demonstrations of RemoteAccess on the show floor. The app is available for download on iOS and Android devices and currently pairs with the Martindale Abrasion and Pilling Tester, RotaPill Pilling Tester, Launder-Ometer Washfastness Tester and Vortex M6.
To ensure the highest quality and the best compliance to the appropriate testing standards, SDL Atlas is now producing both ISO and AATCC styles of Test Materials directly. These include Multifiber (both AATCC and ISO), Detergents, Gray Scales, Blue Wool, Crocking Squares and Fabrics, Abrasion and Pilling Testing Materials, and Phenolic Yellowing Testing Materials. Each lot of Test Materials produced by SDL Atlas is thoroughly tested to ensure conformity and consistency from batch to batch and supplied with a Certificate of Conformity stating such.
The show ended on a high note for SDL Atlas, along with partners, Manuel Villarroya and Jordi Capdevila of Lumaquin, when a deal was secured for the FTT(Fabric Touch Tester) to stay in Spain with Aitex Textile Research Institute.
SDL Atlas is committed to providing customers confidence in standard based testing. With offices and experts in the United States, United Kingdom, Hong Kong and China, plus agents serving over 100 countries, SDL Atlas is ready to support its customers with instruments, test materials and services anywhere in the world.
For more information, visit www.sdlatlas.com or contact an SDL Atlas solutions expert:
- (US) T: +1 803 329 2110; E: [email protected]
- (Hong Kong) T: +852 3443 4888; E: [email protected]
- (China) T: +86 755 2671 1168; E: [email protected]