August 28, 2017
Bean Bag Snag Tester Re-introduced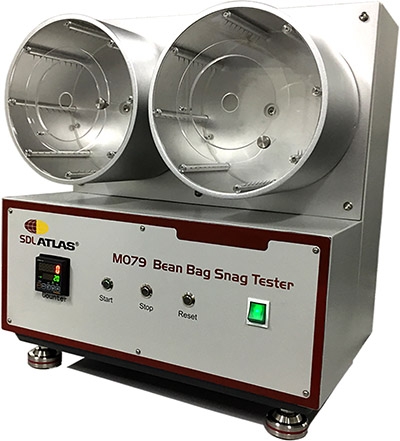 SDL Atlas has re-introduced the Bean Bag Snag Tester. Just as some fashions come back into style, so has the Bean Bag Snag Tester.
Different snagging tests that have been available over the past decade have not been satisfactory for all fabric types. As retailers searched for a solution, they went back in time to the Bean Bag Snag Tester, which tumbles fabric pillows containing a weighted bean bag within two separate test cylinders to determine the snagging and picking characteristics of knitted fabrics.
SDL Atlas discontinued this instrument years ago because of low demand, however, now it is being specified by several retailers. The test is described in ASTM D5362.
If you are having trouble with your snagging test results, contact an SDL Atlas solutions expert for a consultation.
SDL Atlas is committed to providing customers confidence in standard based testing. With offices and experts in the United States, United Kingdom, Hong Kong and China, plus agents serving over 100 countries, SDL Atlas is ready to support its customers with instruments, equipment, consumables, and services anywhere in the world.
For more information, visit www.sdlatlas.com or contact us:
- (US) T: +1 803 329 2110; E: [email protected]
- (Hong Kong) T: +852 3443 4888; E: [email protected]
- (China) T: +86 755 2671 1168; E: [email protected]